January 27 – March 3, 2018 Exhibitions
Opening Reception, Saturday, January 27, 2018, 7 – 9PM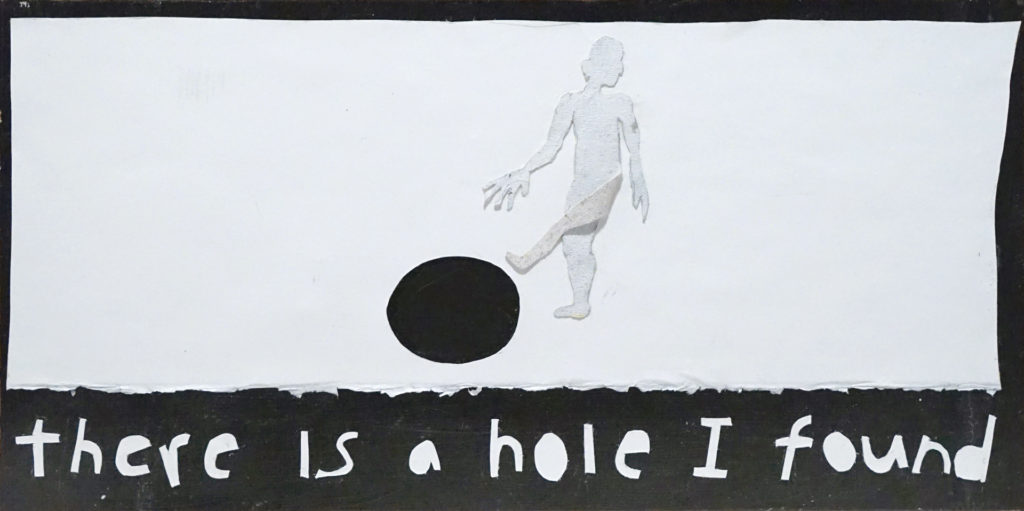 "a hole" (a hole adventure journey exploration story expedition investigation excursion show) | Matthew Kelly Debbaudt
Back BOX
there is a hole i found.
and it is mine.
i found it at the beginning of September, 2017.
i do not know what this hole is, where it came from, or where it goes.
all i do know is that this hole is black, and it is mine.
it follows me wherever i go.
even when it's not here or when I'm not there
or when i don't see it here or there
it is and it sees me
and then
i see it,
seeing me here and there
there and here.
i guess i could say that i am just too much of a coward to find out…
but maybe, just maybe, i just don't want to…
yea thats it..
i just don't want to?
Matthew Kelly Debbaudt was born and raised in Los Angeles, CA. He received his MFA from UC Davis. He now lives and works in Houston, TX.
matthewdebbaudt.com