The Empty BOX: Cloud 9
Saturday, May 6, 2017
7 – 10PM
Auction Closes at 9:30PM
BOX 13's annual exhibition and fundraiser, the Empty BOX, returns on Saturday, May 6th! We're celebrating our 9th year with the theme "Cloud 9" – exploring the inspirational muses of  the arts, science and literature! Come dressed as your favorite character from Greek Mythology, enjoy free live entertainment, feast on delicious bites and imbibe themed concoctions!
The SILENT AUCTION will include work by BOX 13 Resident Artists, as well as outstanding local, national and international artists!
The POOR MAN'S RAFFLE ($5) offers the chance to win a piece by current BOX 13 Resident Artists!
Participating Artist Include:
Keliy Anderson-Staley, Nick Barbee, Debra Barrera, Jill Bedgood, George Bowes, Elaine Bradford, Karen Brasier, Rebecca Braziel, Bradly Brown, Lance Brown, Christopher Cascio, Meredith Cawley, Claire Chauvin, RJ Christensen, Matthew Debbaudt, Justin Dunford, Trey Duvall, Jennifer Ellison, Garland Fielder, John Forse, Jeff Forster, Justin Garrett, Cinthia Gomez, Hillaree Hamblin, Dennis Harper, Patricia Hernandez, Janine Hughes, Nyssa  Juneau, Daniela Koontz, Jessica Kreutter, Angel Lartigue, Emily Link, Jake Margolin, Michelle Matthews, David McClain, Jennifer McClish, Jennifer McNichols, Susannah Mira, Tudor Mitroi, Noëlle Mulder, Laura Napier, Jessica Ninci, Eric Pearce, Kristy Peet, Patrick Phipps, Brian Piana, Andrew Scott Ross, Anthony Sonnenberg, Alexander Squier, Olga Starostina, Patrick Turk, Giovanni Valderas, Nick Vaughan, Monica Vidal, David Waddell, and Sarah Welch!
---
⚡Lightning Bolt . . . $100
Passage for 1 to "Elysium"
Temporarily visit Elysium, a place reserved for mortals related to the gods and other heroes, on a guided tour of 5 BOX 13 Member Artist Studios before the event begins. Each studio will hold a different treat to feast upon, and a trinket to treasure!
1 Handmade "Laurel Wreath"
Sponsors will be crowned with an artist-crafted "laurel wreath" of their choosing upon arrival to the event!
3 "Poor Man's Raffle" Tickets
The "Poor Man's Raffle" is your chance to win a piece by a BOX 13 artist! Drawing held at the close of the Silent Auction.
💡Muse . . . $250
Passage for up to 3 to "Elysium"
3 Handmade "Laurel Wreaths"
6 "Poor Man's Raffle" Tickets
1-Year "Artist Card Subscription"
☁Mount Olympus . . . $500
Passage for up to 7 to "Elysium"
7 Handmade "Laurel Wreaths"
10 "Poor Man's Raffle" Tickets
1-Year "Artist Card Subscription"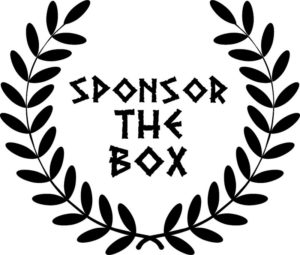 ---