Empty Basket – Jake Wells
Window BOX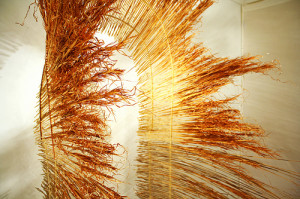 Essentially all living things are storage units of condensed light. These sculptures explore the phenomena of light that's requisite for existence. The wheat and grass are quintessentially sprigs of light shooting vertically from the ground into the sky from whence it came. The threshold of woven grasses suggests rays of radiating light. Light is here employed as a spiritual device, while the grass proffers the connection is through the natural world. The doorway necessitates single file, and reinforces individuality. The passage leads to emptiness where one can connect with the higher-self, unconditional love, and God/Creator energy. The wheat suggests the nourishment attained on the path of self-knowledge.
Jake's main inspiration comes from landscape and nature. Jake received his BFA in painting from Southeast Missouri State University in 2004, and his MFA in painting from Southern Illinois University-Carbondale in 2009. He has shown nationally at venues such as the Zolla-Lieberman Gallery and the Zhou B. Art Center in Chicago, Illinois. He currently lives in Nashville, TN, and works as adjunct art faculty at Nashville State Community College. He's a member of a Turnip Green Creative Reuse Center, where he's on the program committee and teaches workshops.
You can see more of his artwork at his website: www.wellspaintings.com or email him questions about his artwork at: wellspaintings@gmail.com