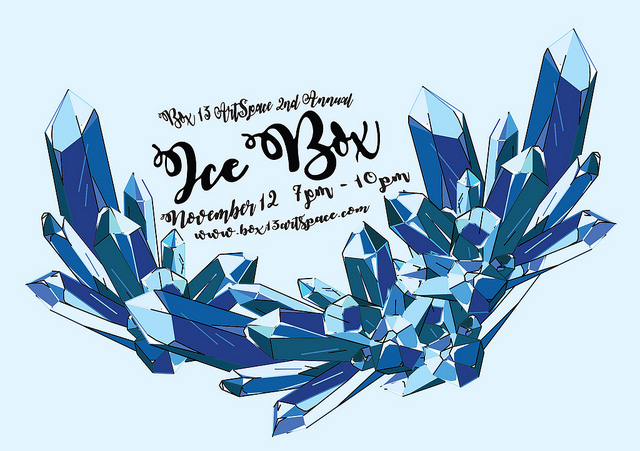 Join us for BOX 13's 2nd Annual Winter Formal, the ICE BOX, on Saturday, November 12, 2016!
We'll be decking out the BOX in the best winter-land finery we can muster, because let's face it, it's still not going to be cold! Bring your friends for a night of frosty frivolity as we raise funds for the BOX!
We'll be serving *ice-cold* drinks and warm foods, exceedingly *cool* music, a Winter Formal-esque step-and-repeat photo booth, and an auction of one-of-a-kind artist made *snow*-globes and other stocking-stuffers.
Attire: Costumes are encouraged! Be it your glittering ballgown, Santa suit, or ugly gem sweater, wear what makes you happy!
Block off the night of: November 12th from 7 – 10PM. Book a babysitter, program your DVR, put a hold on your mail (okay maybe that's going overboard) and join us at BOX 13!
*Tickets Available at the Door!*
"Speed Skater": $20 | 1 Ticket
"Couples Skate": $50 | 2 Tickets + ICE BOX Koozies!

Sponsor the ICE BOX!
Snail mail your Sponsorship Form, or pay online.
"Snow Queen/King": $100 | 2 Tickets + Swag Bags + Recognition on Web & Print
"Zamboni": $250 | 4 Tickets + All of the above + Artist Cards Subscription for 1 year
"Yeti": $500 | 8 Tickets + All of the above + Art Gift Basket
"Jack Frost": $1,000 | 10 Tickets + All of the above + Your Name added to our Wall of Fame